He brooked no insult, would not be cheated, would not be pushed around. He bent a knee to no man. He was the King of Craw and the powers-that-be wanted him gone.
That's the notorious and perplexing John Fallis — a legend in his own time and an icon in Bluegrass folklore now – a mercurial man about whom a great deal is said but very little really known. He was a successful businessman, a political power, a gambler, a bootlegger, movie-star handsome, sometimes wildly violent, yet compassionate and charismatic. The proper folk thought him Lucifer unleased. To the the poor and the powerless, he was Galahad ascendant.
The story is set in the Roaring Twenties in Kentucky's capital city. It's about two boys who fall into his orbit and are witnesses to the events that made him a legend and sparked questions that are still unanswered.   It begins just before the night of the The Big Shoot-Out when he takes on the entire city police force and ends with his bullet-riddled body lying on a craps table in Craw. They said it was a gambler's fight. But many then, and still, think powerful forces in the city brought in an assassin to take him out.
This is the first piece of fiction built around the man and the times. It moves fast, has much drama and action.  For readers particularly drawn to the mystery of why men do the things they do, and to the unending struggle between good and evil, it should hold a particular appeal.
Titled Concerning The Matter Of The King Of Craw, the book is set for release on November 5, 2016 at the Kentucky Book Fair in Frankfort. The publisher, Outer Banks Pubishing Group, is taking advance orders now. The website is outerbankspublishing.com.
______________________________
Concerning The Matter of The King of Craw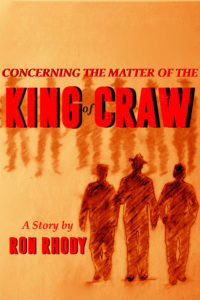 List Price: $16.99
6″ x 9″ (15.24 x 22.86 cm)
Black & White on Cream paper
288 pages
Outer Banks Publishing Group
ISBN-13: 978-0990679042
ISBN-10: 0990679047
BISAC: Fiction / Historical / General
Now $11.99 – Pre-order here